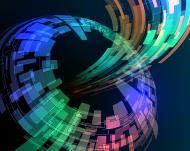 2021 ASTRO Annual Refresher Course - onDemand
This course is designed to provide clinicians in practice and trainees with a comprehensive review and update of the clinical practice parameters across most sub-disciplines of radiation oncology, including sarcomas, pediatrics and the role of radiotherapy in the multidisciplinary management of cancer patients. The course will review key evidence that forms the basis for current clinical practice guidelines and trends in new approaches. In addition, the course will cover the potential of FLASH radiotherapy to improve the therapeutic ratio in radiotherapy.
This activity was originally recorded during ASTRO's 2021 Annual Refresher Course, March 19-21, 2021.
Course instructions can be accessed through the Program tab.
Target Audience
The course is designed to meet the interests of practicing radiation oncologists, radiation oncology residents, medical and clinical physicists, nurses and all other health professionals involved in the field of radiation oncology.
Learning Objectives
Upon completion of this activity, attendees should be able to do the following:
Describe and implement the latest radiation therapy treatment recommendations for clinical scenarios commonly encountered in clinical practice.
Apply the latest radiation technologies to improve patient care.
Describe the potential of FLASH radiotherapy to decrease normal tissue toxicity.
PROGRAM INSTRUCTIONS:
Registration:
Click on the Register tab in the course navigation. Scroll down to add the On Demand Course to your cart. All sessions listed are included with your purchase.
Navigation:
To begin:
    Click on the Take Course tab in the course navigation to see the list of included sessions.
    Click on the title of the session you would like to view.
    Once in the session, review the overview, objectives, and faculty details before clicking Take Course to begin viewing the content.
    Use the left Course Progress bar to navigate the session or the green buttons in the course navigation bar at the bottom.
    You may view the sessions in any order and as many or as few as you wish to receive credit(s).
Once you have completed each session, you can return to the list of sessions available by clicking on Return to 2021 ASTRO Annual Refresher Course – onDemand as seen in the example below.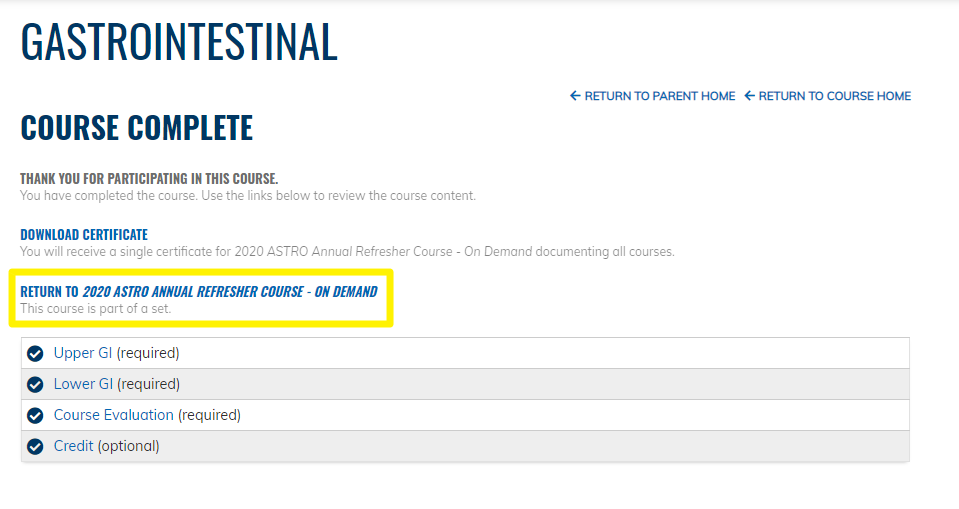 Repeat the above steps to complete as many sessions as you wish to view. You may return later to complete or review any of the sessions.
To re-enter the On Demand course, you will find your 2021 ASTRO Annual Refresher On-Demand in your Completed Activities tab even if you have sessions that have not been viewed available.
Go to the Take Course tab to re-access. Sessions that have been viewed/completed will have a checked circle and unviewed sessions will say Enrolled. You can view sessions as many times as you would like.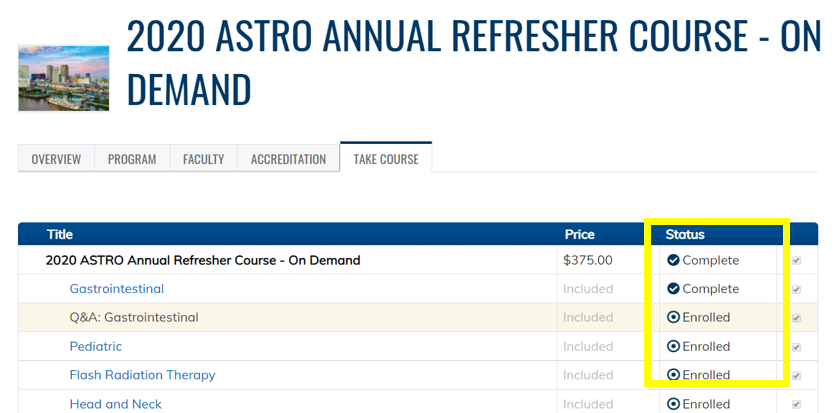 Certificates/Credits
You may view and claim credit for some or all of the virtual sessions. Each time you complete the viewing and evaluation of a session, your CME certificate for the course will update with the new credit hours awarded.
2021 ASTRO Annual Refresher Course
Member
Employment

Compensation/

Renumeration/Funding

Leadership Positions

Ownership or Investment

Interests

Mohamed Abazeed
Northwestern University: Associate Professor
Siemens Medical Solutions: Travel Expenses, Research Grants
None
None
Kevin Albuquerque
UTSW Dallas: Professor

None

None
None
Manpreet Bedi
Medical College of Wisconsin: Radiation Oncologist

None

None
None
Julie Bradley
UF Health Proton Therapy Institute: Assistant Professor
Ion Beam Application: Travel Expenses (Relationship ended), Research Grants
Medical Dosimetry Certification Board: Board Member: Relationship ended)
NCI BOLD task force: NRG early investigator member
None
Beth Erickson
Medical College of Wisconsin: MD Professor of Radiation Oncology
None
American Brachytherapy Society: Co-chair: Helo to organize the annual or bi-annual Gyn Brachytherapy school -2015;
ASTRO: Chair, CO-chair: Develop curriculum and select speakers for the Annual ASTRO Refresher Course. Also serve as a moderator for some of the sessions, Vice chair of ASTRO Fellows committee: Help to coordinate selection of ASTRO Fellows prior to annual meeting. Board of Directors: Education Council: Vice Chair
None
Russell Hales
Johns Hopkins University
None
None
None
Emma Holliday
University of Texas MD Anderson Cancer Center: Assistant Professor
Merck: Research Grants
None
None
Theodore Hong
Massachusetts General Hospital
None
None
None
Kenneth Shung Hu
NYU Langone Medical Center: Associate Professor
None
NY Head and Neck Society: Immediate Past-President
Amgen: Stock
Biogen Idec: Stock
Johnson and Johnson: Stock
Albert Koong
MD Anderson: Division Head and Chair, Radiation Oncology
None
None
Aravive, Inc.: Stock
Wolfram Laub
Associates in Medical Physics: COO
None
None
None
Peter Maxim
Indiana University
None
TibaRay, Inc: Founder, Consultant
None
Malika Siker
Medical College of Wisconsin: Associate Professor
None
ASTRO: Chair of Committee for Health Equity, Diversity and Inclusion
None
Rahul Tendulkar
Cleveland Clinic: Faculty
Varian Medical Systems: Honoraria
None
Abbvie: Stock
Yolanda Tseng
University of Washington: Associate professor
None
Society for palliative radiation oncology: Secretary: Executive committee member
None
Stephanie Weiss
Fox Chase Cancer Center: Physician
None
ACRO: Abstract committee: member
ASTRO: Education Committee: Member
Astra Zenaca: Stock
Regeneron: Stock
Julia White
Ohio State University: Professor
Exact Sciences: Honoraria
National Consortium of Breast Centers: Board Member;
NCI Breast Cancer Steering Group: Member; NRG: Co-chair, Breast Cancer Committee
None
Gayle Woloschak

Northwestern University

None
None
None
Ross Zeitlin

Cook Radiation Oncology: Radiation Oncologist

None
None
None

The American Society for Radiation Oncology (ASTRO) is accredited by the Accreditation Council of Continuing Medical Education to provide continuing education to physicians.
ASTRO is awarded Deemed Status by the American Board of Radiology to provide SA-CME as part of Part II Maintenance of Certification.
Available Credit
17.75

AMA PRA Category 1 Credit™

The American Society for Radiation Oncology (ASTRO) is accredited by the Accreditation Council for Continuing Medical Education for physicians. ASTRO designates this Enduring material for a maximum of 17.75 AMA PRA Category 1 Credit™. Physicians should claim only the credit commensurate with the extent of their participation in the activity.

17.75

Certificate of Attendance

This activity was designated for 17.75 AMA PRA Category 1 Credit™.
Course Fees:
ASTRO members must log in to the ASTRO website to view and receive the discounted member rate.
Nonmember: $500
Member: $375
Member-in-Training: $200
Policies:
No refunds, extensions, or substitutions will be made for those registrants. Including those who for any reason,  have not completed the course by the end of the qualification date. The qualification date for each course is listed in the course catalog on the ASTRO website under availability.
Participants using ASTRO's online courses to satisfy the requirement of a Maintenance of Certification (MOC) program should verify the number, type and availability dates of any course before making a purchase. No refunds, extensions, or substitutions will be made for participants who have purchased courses that do not align with their MOC requirement.
The course and its materials will only be available on the ASTRO website for that 3 year period regardless of purchase date. At the expiration of the qualification, participants will no longer have access to the course or its materials. ASTRO reserves the right to remove a course before the end of its qualification period."
Required Hardware/software
One of the two latest versions of Google Chrome, Mozilla Firefox, Internet Explorer or Safari.